Loom Knit Santa Scarf Pattern (Free)
Over 200 Original Loom Knitting Patterns for all Levels!
Buy $15.00 get 15% Off, Code: LOOMLOVE15...Buy $20.00 get 20% Off, Code: LOOMLOVE20.
Important Note (read before purchase): This site does NOT act as a pattern library and allows a maximum of 3 downloads per purchase. An account is automatically generated on purchase. Your confirmation email will contain your pattern link, log-in name, and password. This site uses cookies, Site Policies.
Loom Knit Skinny Santa Scarf Pattern
(Free Pattern)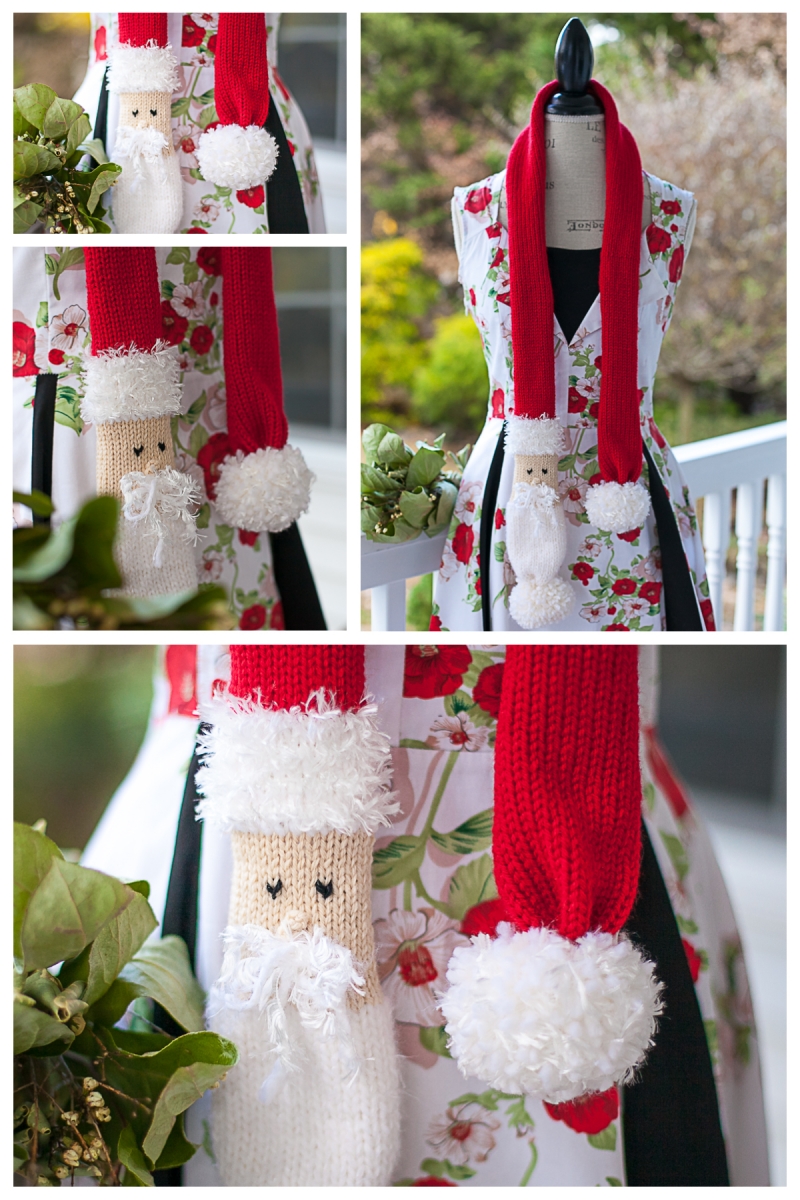 Supplies
Knitting Tool
Crochet hook
Yarn/tapestry needle
Measuring tape
Suggested Looms and yarn

3/8" Peg Spacing, Use 50 pegs. Use 1 strand of yarn.
½" Peg Spacing, Use 36 pegs. 1 to 2 strands yarn held together, knit a swatch to determine.
¾" Peg Spacing, Use 24 pegs. Use 2 strands of yarn.
Yarn: Suggested yarn; 1 skein or less each, White eyelash (any short eyelash type) and Buttercream Luxe Craft Angel Hair, White, #5 weight, Pounds of love tan and bright red #4 worsted. This is a good stash buster scarf!
Gauge: Use a measuring tape.
Size: Will vary with loom used. Knitting a swatch is a good idea to test gauge with yarn chosen. You will need extra width to allow the scarf to roll.
Pattern Notes
Scarf is knit from the beard to top of the hat.
Scarf is designed to roll, giving it its' skinny look. If you do not want your scarf to roll, add edge sts. Please note that the scarf will be much wider than photo if you do this as it will lay flat.
Both ends are gathered to help scarf roll inward.
Experiment! This scarf also looks great knit as a tube scarf, use the same number of pegs but knit in the round.
The e-wrap knit stitch is not recommended for this pattern.
Pattern
Foundation row: Before casing on cut a length of yarn twice as long as pegs used. Chain Cast on with white Buttercream (see above for yarn amounts). Thread yarn through tapestry needle, take yarn through loops on all pegs, then leave hanging. This yarn will be used to pull scarf in at the bottom.
Beard
Row 1: Knit (Use u-knit or regular knit st)
Repeat row 1 until total knitting measures 4 ½" inches.
Cut White, change to tan.
Face
Row 1: Knit.
Repeat row 1 until Face measures 2 ½". Total knitting should measure 7 inches.
Cut Tan. Change to White and Eyelash yarn, Hold 1 strand of each and knit them as one (all looms).
Hat Band
Row 1: Knit
Rep row 1 until total knitting measures 8 ¾" inches.
Cut Working yarn, change to Red.
Santa's Hat
Row 1: Knit
Repeat row 1 until total knitting measures desired length. Sample scarf is 47 inches long.
Bind off using gather method.
Finish: Weave in ends. Gather knitting at both ends of the scarf and secure. Make bobble for nose (see below). Sew nose to center of face. Duplicate stitch eyes (1 stitch for each eye, see photo for placement). Make a bow using 1 strand eyelash and 1 strand white and attach just underneath Santa's nose. Make a 3 inch pom-pom for each end of the scarf.
(MB) Make bobble: E-wrap peg 5 (larger gauge looms) or 7 times (smaller gauge looms). Reach below peg and pick up the 1st e-wrap st and place it on peg. Bind off and pull bobble tight. Leave a tail for sewing onto Santa's face.