LOOM KNIT WOOL SOAP SACK
Over 200 Original Loom Knitting Patterns for all Levels!
Buy $15.00 get 15% Off, Code: LOOMLOVE15...Buy $20.00 get 20% Off, Code: LOOMLOVE20.
Important Note (read before purchase): This site does NOT act as a pattern library and allows a maximum of 3 downloads per purchase. An account is automatically generated on purchase. Your confirmation email will contain your pattern link, log-in name, and password. This site uses cookies, Site Policies.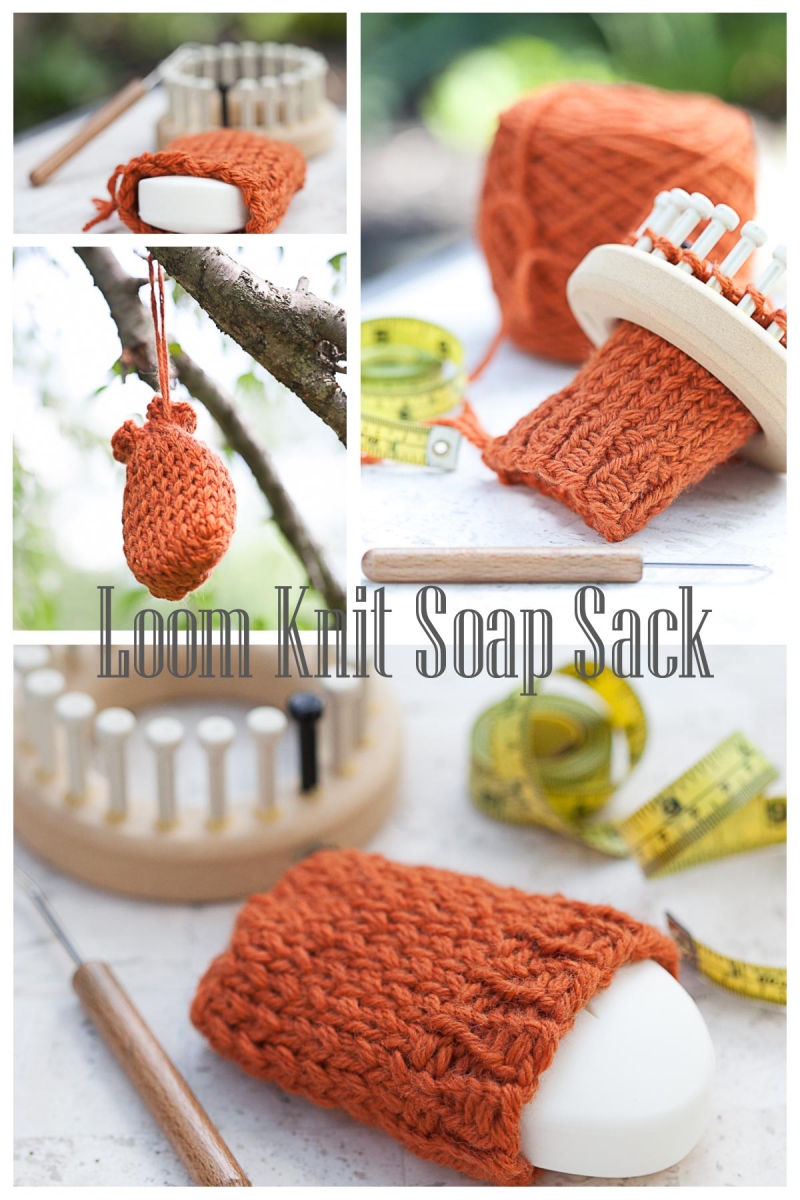 A fun and easy project for the loom knitter...
These quick and easy wool loom knit soap sacks make a wonderful gift idea for those who enjoy beautiful soaps and spa items! Soap socks are wonderful for holding in all of those small soap pieces, no waste, and for exfoliating your skin as you wash.
I have created 2 different versions of this little wool project. The one pictured has a drawstring closure for easy opening/closing and hanging. The other version (not pictured) does not have the ribbing and is seamed at both ends. Use 100% wool or natural fiber so that it will naturallly felt as it is used.
Supplies: Any round loom with a circumference of 11-1/2"; the 21 peg, 1/2" CinDWood was used for sample, Knitting tool, crochet hook, yarn needle, 100% wool yarn (do not use acrylic), worsted weight (4), 2 strands used as one.
Tip: This is an excellent way to use up wool scraps!
Version 1: Ribbed top with drawstring (pictured)
Foundation row: Chain CO all pegs, join to work in the round.
Rounds 1-6: *K1, p1, repeat from * to last peg, k1 (omit the k1 if using an even peg loom).
Rnd 7: e-wrap knit
Rnd 8: u-knit
Repeat rounds 7 and 8 until knitting measures 4-1/2".
Bind off using gather method, pull gently to round corners, then mattress seam completely closed.
Finish: Weave in ends. In the middle of ribbing weave a 10" piece of yarn through knitting to use as a drawstring. Knot at the top.This hanger can be doubled as seen in picture above.
Version 2: Seamed at both ends.
Foundation Round: Chain CO all pegs, join to work in the round.
Rnd 1: e-wrap knit (ewk)
Rnd 2: u-knit
Repeat rounds 1 and 2 until knitting measures 4 inches (measurement may be adjusted).
Bind off using chain one bind off method.
Finish: Weave in ends. Use mattress seam to close one end, insert soap, mattress seam other end closed.
Thank you for reading!
-Nicole